Museum piece, or the perfect cookset for the end of days?
Well, I dont know about the post-apocalyptic bit, but I like this stove loads and although production of the SIGG cookset stopped about 1990, I think it's hard to beat.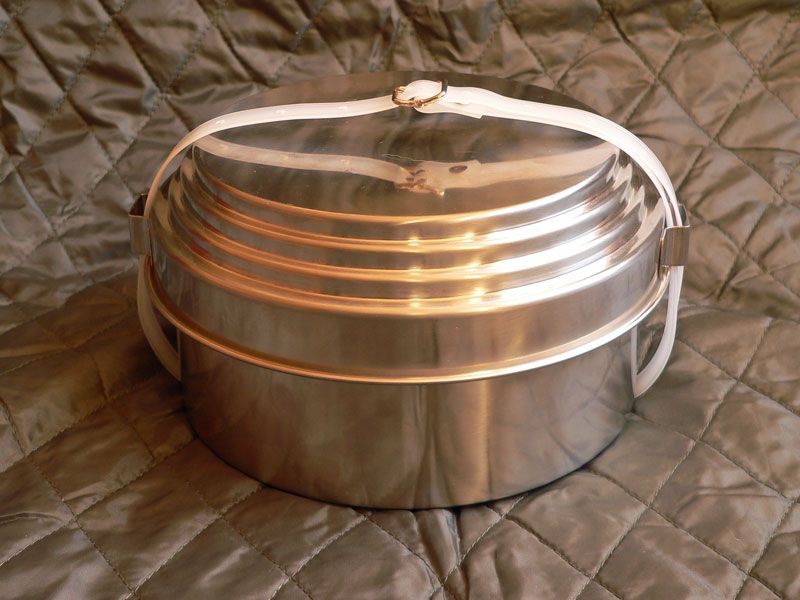 The cookset is very reminiscent of the trangia set, is about the same size and weight and works in a similar way, with some crucial differences though. It was made in several flavours and different materials (though most commonly - aluminium), to suit different commercially available stoves. By far the most popular though, was the cookset designed for the Optimus SVEA 123 stove. The pots from all versions are interchangeable, though they do have slightly different capacities. These sets are like hens teeth now and are very hard to find in good condition and fetch a premium if you can find one. Those appearing on ebay are typically old, battered and expensive. Even rarer are the stainless steel versions - made originally for the Coleman Peak1 stove I think, though I may be wrong. The set I have here is a hybrid, it has the aluminium base and windshield designed for use with the SVEA and the stainless steel pots and lid from the Peak1 set. It's also in near mint condition.
Although variations of this cookset have been manufactured to work with several different stoves, the original design was built around the fantastic little SVEA 123 stove. This stove is a classic in its own right. It runs on Coleman fuel/white gas/naptha or unleaded. Though if use of unleaded will require regular jet cleaning and cause the stove to soot up far more than the cleaner fuels. The stove is self-pressurising - in other words, you dont pump it up. You simply fill the tank, prime it and light it. The heat from the stove is sufficient to keep the tank pressurised and running till you turn it off via the valve.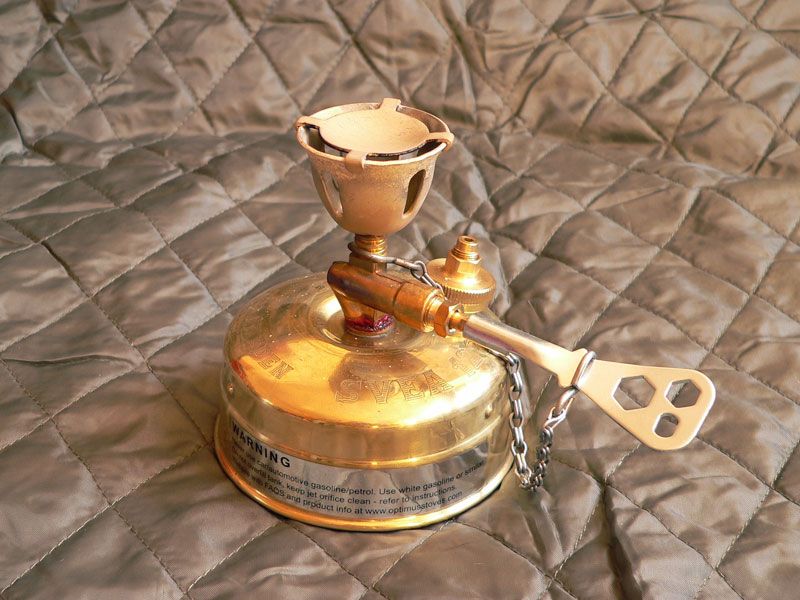 This is the 'R' variant of the SVEA stove with the built in cleaning needle. It's a tiny thing, with a tank capacity of 180mls, but you should only fill to a max
3
/
4
of that to allow space in the tank for pressure to build up. It'll run for around an hour on 1 tank and put out between 4500 and 5000 BTU's, depending on ambient conditions. Although there is no pump, Optimus did make an auxillary mini pump to assist pressurising the stove at high altitude or in extreme cold weather. These are getting hard to find and also fetch a premium (if anyone has one they want to sell, please drop me a PM). The standalone version of the stove can be a little fiddly to prime due to the windshield-stand as can be seen in this video....
As that windshield-stand is not used with the SIGG cookset, it makes this setup significantly easier to light and use.
I weighed the complete set on my postal scales and it came out at 1214g, but there was about
1
/
3
tank of fuel so probably about 1150g dry weight. That sounds heavy but an Optimus Nova weighs around 500g without pots or windshield. The SVEA has been superseded by modern stoves in terms of weight and efficiency, but they are also far more complex. The SVEA is wonderfully simple with only one moving part (the valve) and stoves from the 70's found in flea markets usually clean up well and start first time. The relatively light weight, robust simplicity and reliability make this stove a contender even now, especially if you are out for a long time where usability and the weight of fuel becomes more important than the weight of the stove itself. Many modern stoves will put out in excess of 10000 BTU's, but the 5000 BTU's of the little SVEA gets the job done and it'll boil half a litre in around 3 minutes - while it's perhaps more suited to the long haul of a gourmet cook than a frenzied snow-melter, it certainly doesnt lack horsepower and is nothing like the all-day approach to cooking needed with a trangia.
About that usability. Well this is where you see the SVEA and SIGG are a marriage made in heaven. The whole lot nests within itself, that's a wide, deep frying pan/plate/lid, a small cooking pot, a large cooking pot, the windshield and the stove...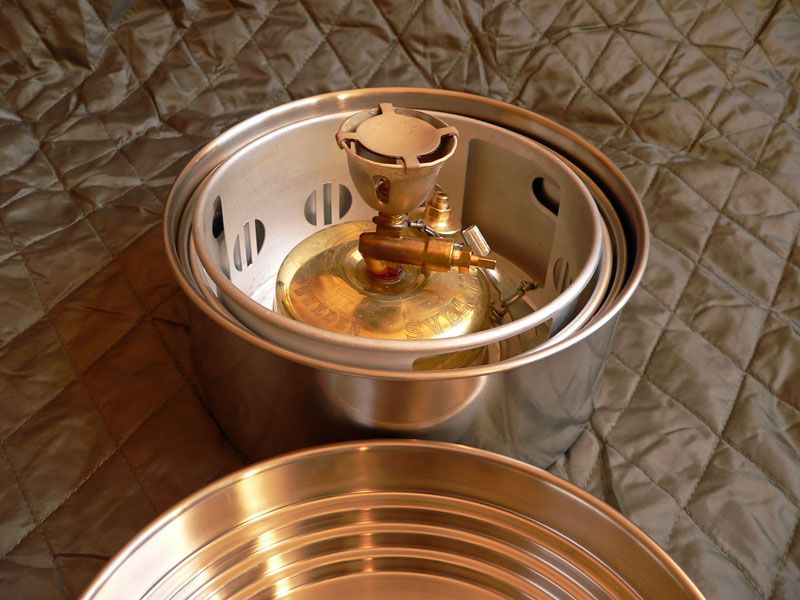 The stove locks into the base of the windshield to form an exceptionally stable cooking platform that is the equal of a trangia set...
The upper half does not lock onto the base like a trangia, but sits on it and is held there by a simple shoulder...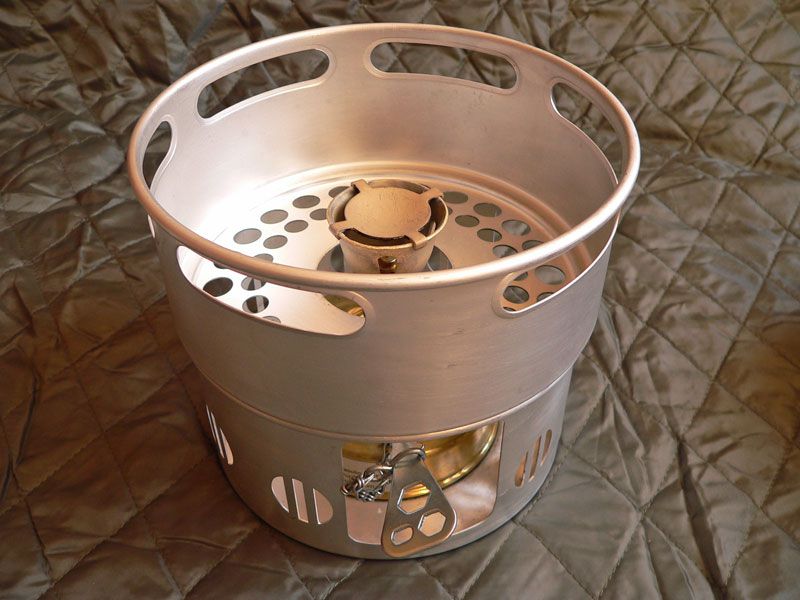 Similarly, the posts all sit into the windshield (and each other) by the shoulder on the base. It makes for a wonderfully usable cooking system that is as stable as your kitchen hob. It's a joy to not have to balance everything or be careful how roughly you stir your noodles...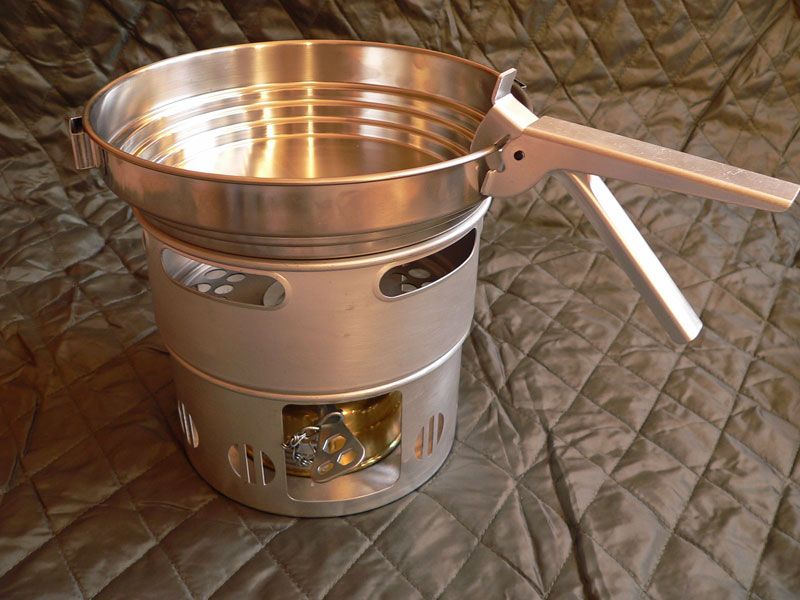 I'm not sure of the stated capacity of the steel pots, but I measured a litre into the small one with a good 2 inches from the lip...
The larger pot will hold 1.25 litres with similar space to spare...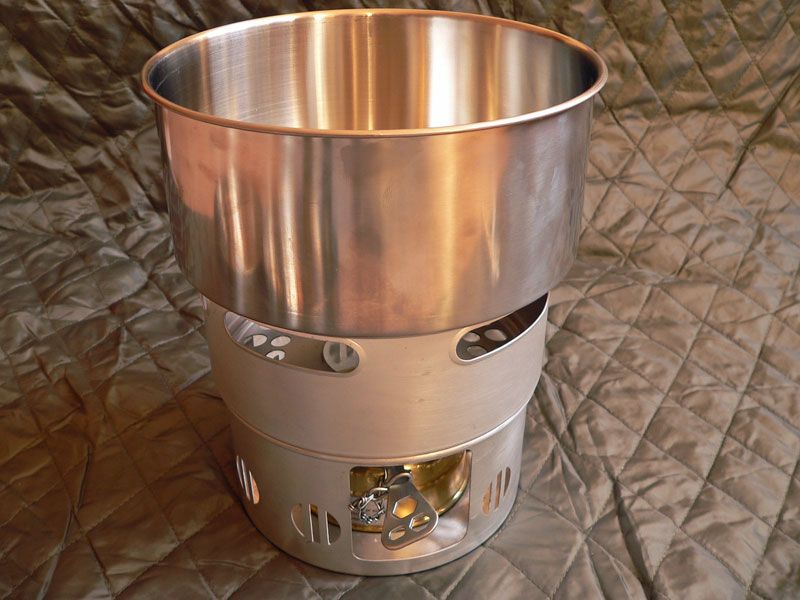 But here's a little trick you dont see very often. The pots can stack while you're cooking....
Even stacked like this, the cookset is still extremely stable. You wouldn't want to use it in a boat, but cooking tomatoes, beans, bacon egg and sausages for two people is a no brainer. It's not just a stove, it's a steamer and a bain marie.
If you dont fancy the multi-pot approach to cooking, you can simply boil water in te lower pot, while heating your rabbit stew in the top one. Flip the frying pan into a lid and you have boiling water to brew up or wash up with after your meal...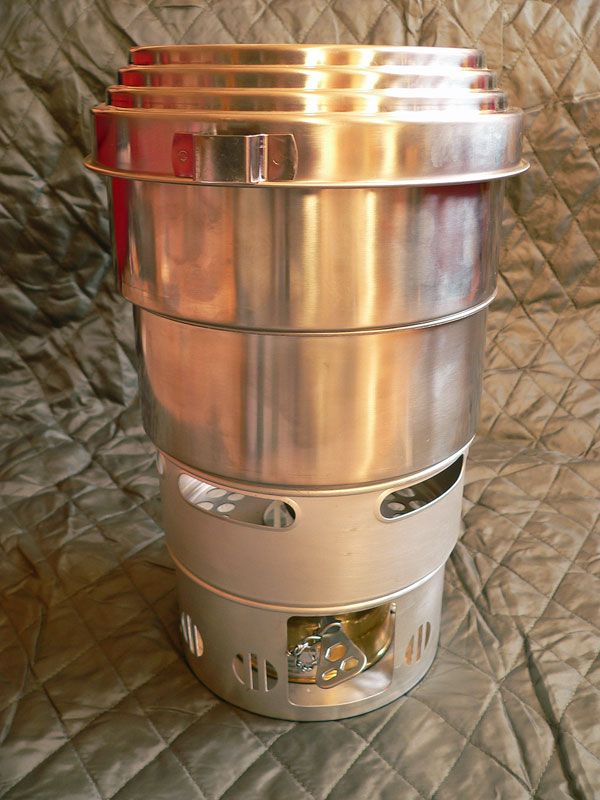 It's possible to use different pots with the set too. Larger pots simply sit on top, while smaller pots can be used by placing tent stakes through the slots round the top of the windshield. You can use pretty much any size pot you like this way, though obviously the real strength of the system is with the pots designed for it.
Here's a short vid of the system in use by our own RikUK....
Fantastic kit, a museum piece, a collectors item, a work of art, a little bit steam-punk and can still stand toe-to-toe with anything on offer today.