Here is a fine pair of outdoorsy knives that I received recently. Thought you might enjoy a little look around. The one here with the single piece, birch handle is a slim puukko made by Joonas Kallioniemi in Bohler 510 (silver steel). The other, the one with the red micarta scales, is an O1 folding bushie, a slipjoint by DavidH.
I have had them a few days only, but have given them a go with the usual testers. Bits of paper, cooking dinner and cutting up meat and fruit and veg, shaving and shaping pieces of green and seasoned wood. That sort of thing.
The first thing to say about both is that I am extremely impressed with them. They are not only effective in what they are designed to do, but they are very, very well made, and affecting in their looks. They feel competent in use and have that quality in good pieces of cutlery, in that they are able to teach you new things about how a knife can perform, going beyond your expectations.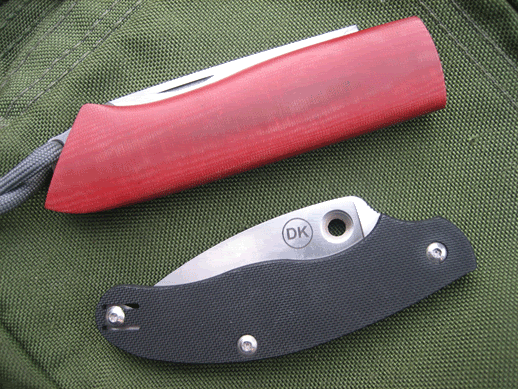 I saw two posts on BB, one from each maker introducing what they did and immediately promised myself to at least try to get pieces by them. I dropped and email to David and pretty soon got a reply saying that this one was available and would I like it. Another to Joonas asking if he could make this single piece handle, traditional puukko, got a positive response. Then I just waited for them to arrive. Not as easy as you might think.
As you can see from the pictures of the puukko, it is a smaller, rather slender piece. The handle is accomplished in a way I havenít encountered for a while. It allows for neat detailed carving work, as well removing material in a more approximate sort of way. I really like this conventional, sort of barrel profile for the handle, with its ovoid section. It is very lively in the hand, presenting lots of options in use, and never feels like it has locked into position in a prescriptive way.
The blade itself is trapezoid in section, and similar to Jukka Hankalaís blades. But this is far from an unusual way of lightening the blade in traditional Scandinavian knife design. It has uses beyond just weight reduction. For instance, it allows for some purchase when using the knife with the back of the blade pinched between thumb and forefinger, whilst the handle is tucked away into the remaining three fingers.
You can also see that the tip is a refined thing. The grind is clever at the point, allowing for some reinforcement of the tip in the the way the thicker middle part of the blade is handled. There is an odd thing about this silver steel. It tastes really nice
I peeled an apple and there is a piquancy in the flavour imparted by the metal. But, it is not that sometimes rather overpowering flavour that you can get from 1095, or the stuff that Opinel use. Maybe as the patina increases the taste will change. Just have to keep it clean I guess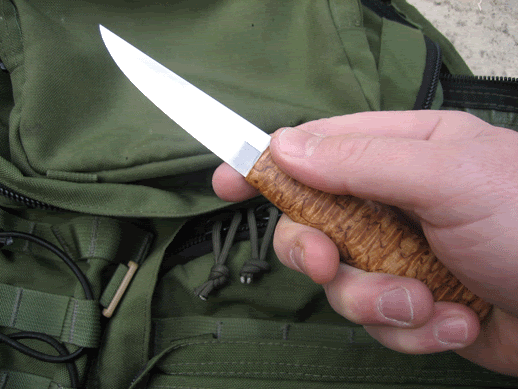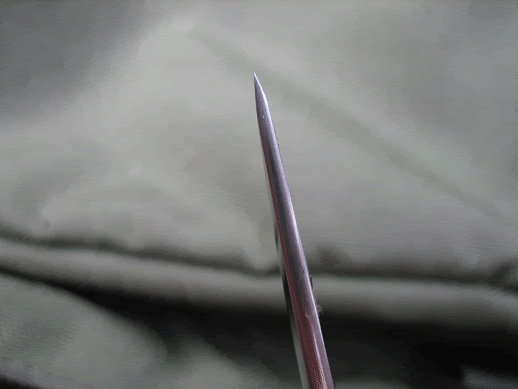 David's knife is a rather different thing; part from the obvious aspects of its foldyness. It is has a lot more gravity
It is heavy knife. The blade is 3mm thick. The brass liners are substantial and micarta is no lightweight material. It has a semi halfstop. A half pause, perhaps, which is very appealing. The blade stays very much open when it is open, and closed when it is closed.
Moreover, and I may have this wrong, but David uses CNC to produce the parts, and this might account for the finest match of the back of the blade where it meets the backspring that I have ever seen. I just sit around looking at it. It is a wonder of precision Ė as indeed is the whole knife
I understand that David also makes lighter knives in a similar pattern. I think I would like one of these at some point in the future, though most certainly not instead of this one. The weight of this knife really lends a quality of confidence to the knife when in use, especially when, say, putting a point on a stick, for example. It really feels like a tool, this one.
Jacket wear, I would say, rather than jeans pocket wear, I thought at first. But I ran up a little grey suede, fold over sheath for it. Where the grippiness of the suede clings to the lining of the pocket, this helps greatly in keeping the thing comfortable, and just seems lighter that way. I understand Rapidboy and David are working a design for a more robust sheath for these knives.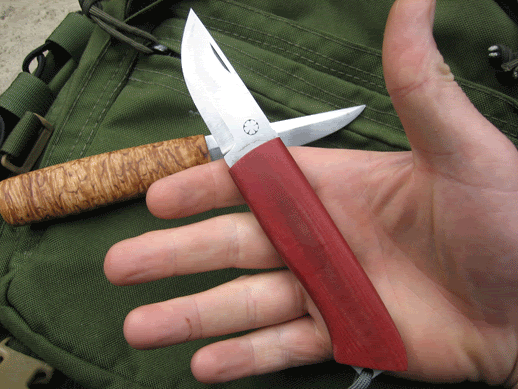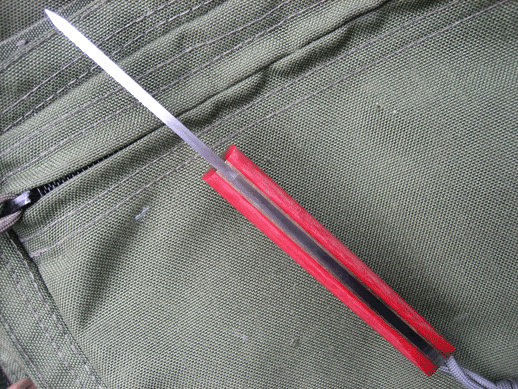 The tip of the knife is rather more assertively reinforced, and II think this underlines a different character for the use of the knife. As capable as the Kallioniemi puukko, there is a sense that this is conceived as primarily a wood working instrument, and available for other things. The Kallioniemi feels more like a knife that tries to sit between the demands of woodwork, food prep, filleting and other utilities in a more equable manner. Though, I should say that this positioning of the intention of the knife is not the grounds for any quality judgements. They are simply different there. Iíd say that the Hull reminds, if such a near unique knife reminds of anything in particular, of the Roselli UHC knives.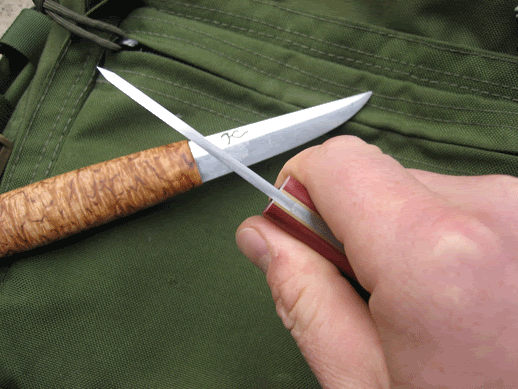 Proportionally the breadth of the blades differs, too. The blade of the folder is about three quarters of the length of the puukko. However, it is maybe half as broad again. This allows for that pinch grip to be used for closer work, and is really very well judged in that, leaving the entirety of the zero ground edge available for work.
Having said that I like the barrel shape of the traditional puukko handle, I should also say that I am not a great fan of this on shorter, stouter knives. Davidís knife is a full sized, short-bladed knife, much like a shorter version of the Roselli Carpenter, only bendy. So, for the kind of jobs that this sort of shorter blade is good for, the little pinkie kick in the tail of the handle is really very useful, and it goes without saying perfectly conceived and executed here.
One thing surprises me, I think. And what I am surprised by, is the littleness with which the issue of the handmade/CNC elements of these knives is pat of the apparent meanings of these knives. They both feel handmade, and equally, I suppose, organic is the word. The CNC bit, seems to be a total non-issue, and I think this is an enormous contribution made by David in the design of these folders. It just goes to show that, when done sensitively, the sense of the knife lies in great measure in the conception of it. That said of course, the fact that Joonas Kallioniemi has hand ground the blade, and hand fashioned the handle of this knife is really evident. This is not so much in any apparent errors. Where they are, they are tiny. More it is in the something like the handling of the tip of the knife, which is so kind of spot-on!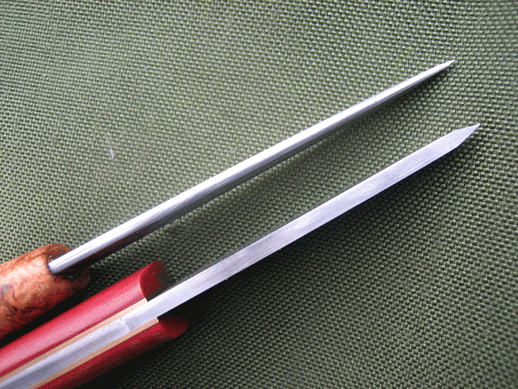 I meant to say that at the time I asked Joonas to make me a knife, I also asked him to send me a spare blade of similar design. You know, I just wanted one to mess up. When I actually saw the knife he sent me, I just told him I was sending the blade back to him in Finland to fit a handle to it. I so want two of these, and there is no way Iíd get even vaguely close to the intimate, careful handle shape he has achieved here.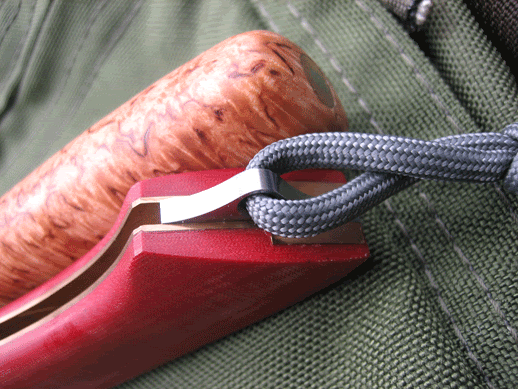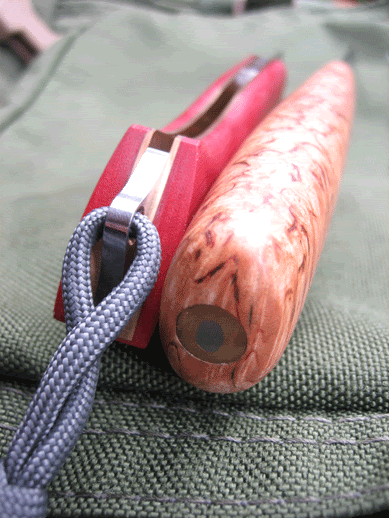 A pair of contrastable details are in the tails of the knives. The peened and ground rivet work in Joonas knife is a compelling. A traditional element in the manufacture of such knives, frequently seen, but wonderfully precise here. But, would you just take a look at the lanyard sprue that David has devised for this folder?
If there is a moment where this knife looks like engineering, it is here. Crisp, succinct, fabulously limned in, this element of the knife is integrated into the overall construction of the backspring. What you can also see, and which is rhymed at the other end of the handle, is the filleting in of the brass of the liners. It is transfixing. The knife is made of that kind of resolved and considered consistency. In fact, I think I will take some better pics of the way that those liners show at each end tomorrow.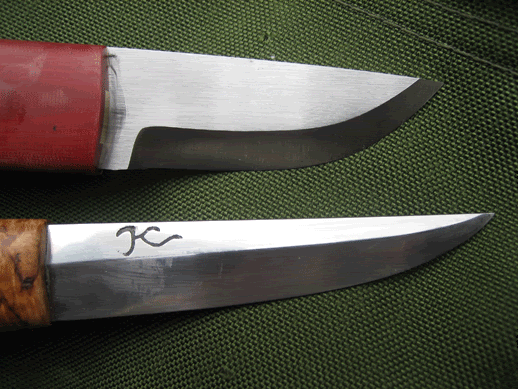 So, to end. I am lucky. I have a number of really good knives. They arenít really comparable, many of them, in terms of the ways they have been designed, what they are designed for and how they are made. But these two rank right up up there as international greats, both showing potential for really changing certain things in the design and making of cutlery, whilst augmenting many traditional virtues.
I love them both to death, it neednít be reiterated. But in many ways this is an almost entirely unilluminating thing to say. The reason for this is that this pair of knives fit so closely into the use niches that I have in mind for them, they are so effectively aligned with thei functions, that they have become almost transparent. It is hardly worth talking about them. Weíll just go out a lot.