The knives: A Chris Reeve Pacific, Strider MT Mod10 and a Fallkniven A1.
I thought it might be interesting to do a round-up of these 3 classic knives. I haven't got the time with them to do a field review yet. I've had the A1 for ages and pounded pretty hard on it, but the strider hasn't been with me long and the Chris Reeve Pacific hasn't left the house yet. But that shouldn't detract from the benefits of a closer look at them on the table.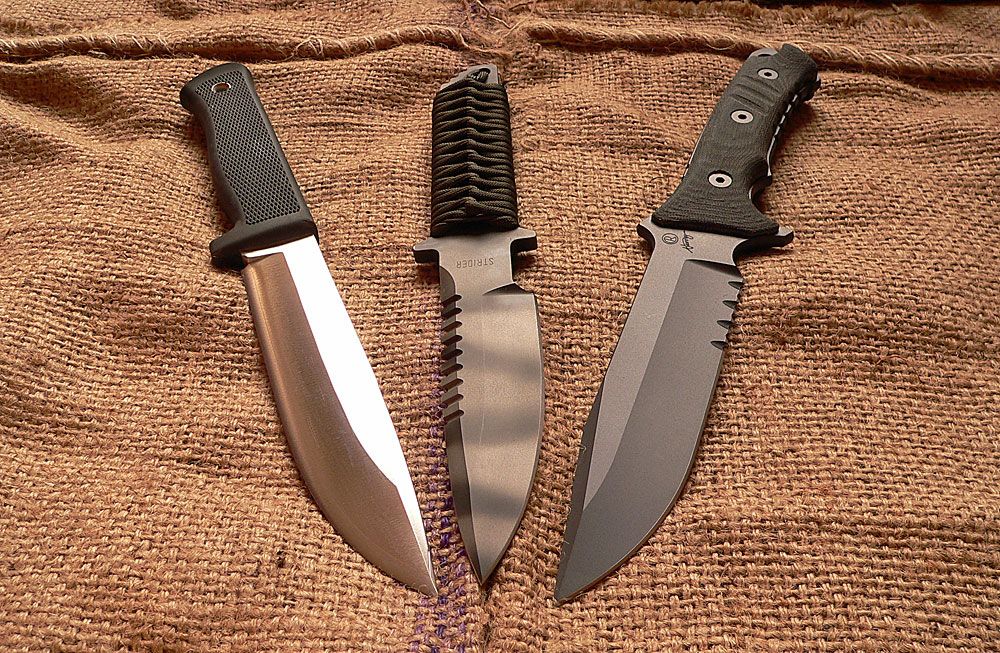 All 3 of these knives represent some of the best in the industry, classic military designs from some of the best cutlers in the business. They may seem very different, but they merit comparison because they are all designed to serve in a similar role and succeed and fail in that role to various degrees. Right, lets take a closer look - get comfy, this is going to be a long one folks.
Part 1

The Strider MT Mod 10:
Specs:
Overall length of the knife: 255mm
Overall blade Length: 135mm
Cutting edge length: 110mm
Blade Thickness: 6.35mm
Blade coating: Sandblasted, tiger stripe.
Tang: Full tang.
Handle Material: Paracord wrap with paracord underwrap.
Steel: Crucible S30V
Weight of knife only: 272g
Weight of knife with sheath & DC4: 514g
Sheath type: Customised Eagle Industries cordura, no PALS, but multiple attachment options.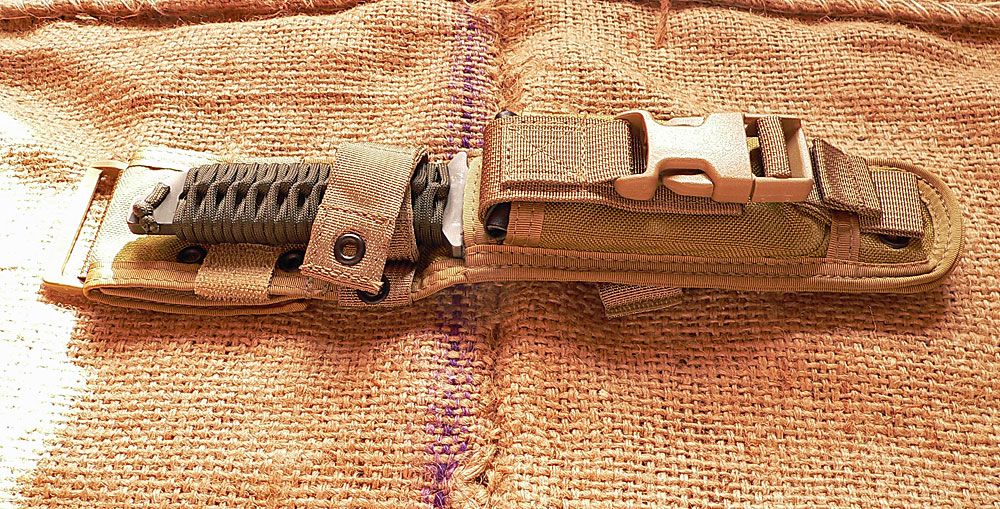 The Mod10 is the smallest, most compact package of the 3, it's noticeable, but not by much. It's superbly made, the machining is immaculate and the handle wrap is very comfortable. There is actually an under-wrap which adds thickness and prevents metal showing through the gaps in the over-wrap. It works on Japanese swords and it works on this knife too - plus it gives you about 10 feet of paracord to use in an emergency. The knife is a spear-point design with a very large ricasso/choil area. It has a double edge with serrations on the spine. The top edge has a glint of metal showing as if sharpened, but it's so dull it wont cut through string. It's mostly cosmetic. The serrations are mostly cosmetic too. They are so coarse, they don't cut as much as grind through things. You can grind a V notch in wood, but forget any ideas of using them as a saw or for cutting rope - not a chance. It's a lovely looking object, well balanced and although the cutting edge is only around 4 inches long, it has a heft to it which matches the larger knives on review here. Not sure if that is a good or bad thing.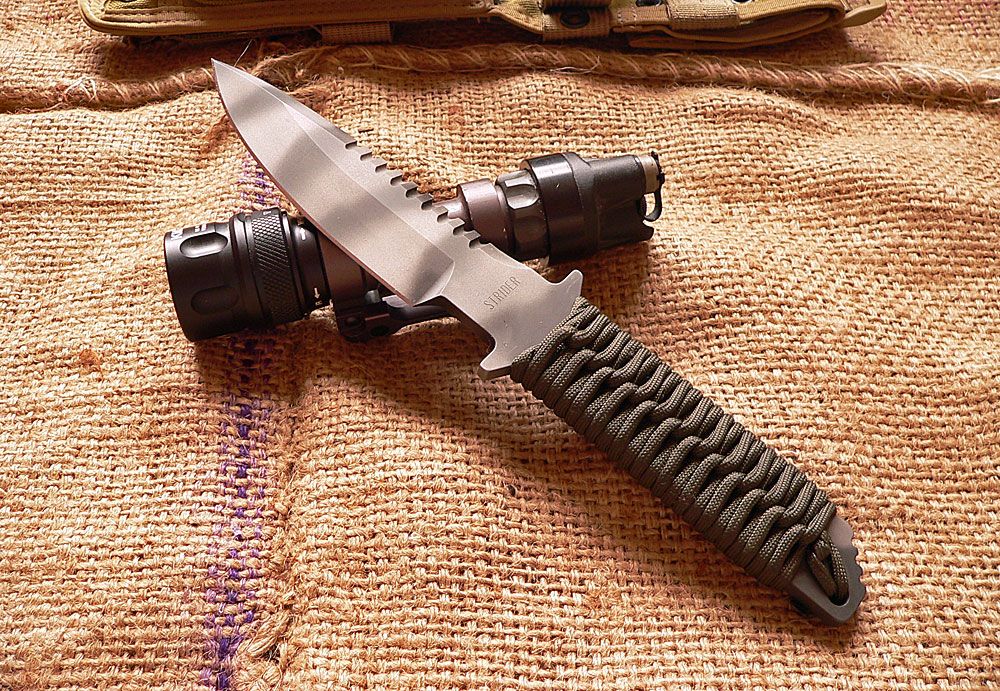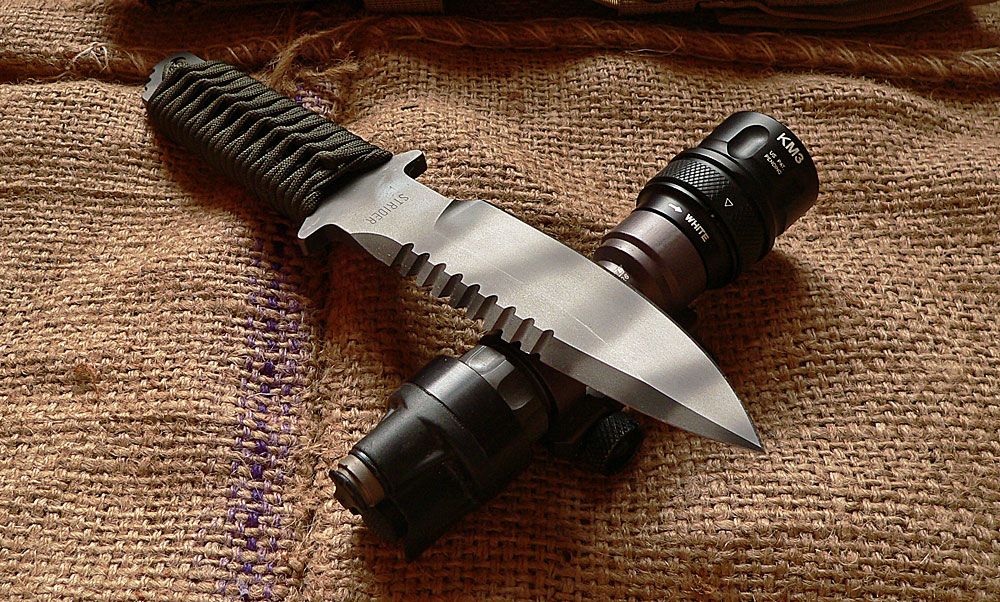 I suppose the back edge could be sharpened - at least made sharper. But the grind angle of the swedge is so obtuse, you wont ever get a keen edge. That brings me on to the primary edge. This has to be the dullest out-of-the-box knife I've ever bought. It certainly doesnt shave, or anything remotely close. Again, I dare say it can be made sharper, but the thick steel and narrow blade with very obtuse grind geometry mean this knife is never going to be a good cutter. It's just too limited by it's own physics. That said, maybe I'm being too harsh. I'm used to knives being scalpel sharp and that's not in the design brief for the Mod10. It does cut, it goes through paracord, cardboard, shaves wood and actually is a very good splitter. So it is functional - it does most of what you want from a blade, but if you've got a plie of carrots to cut, you'll be flirting them everywhere but in the pot.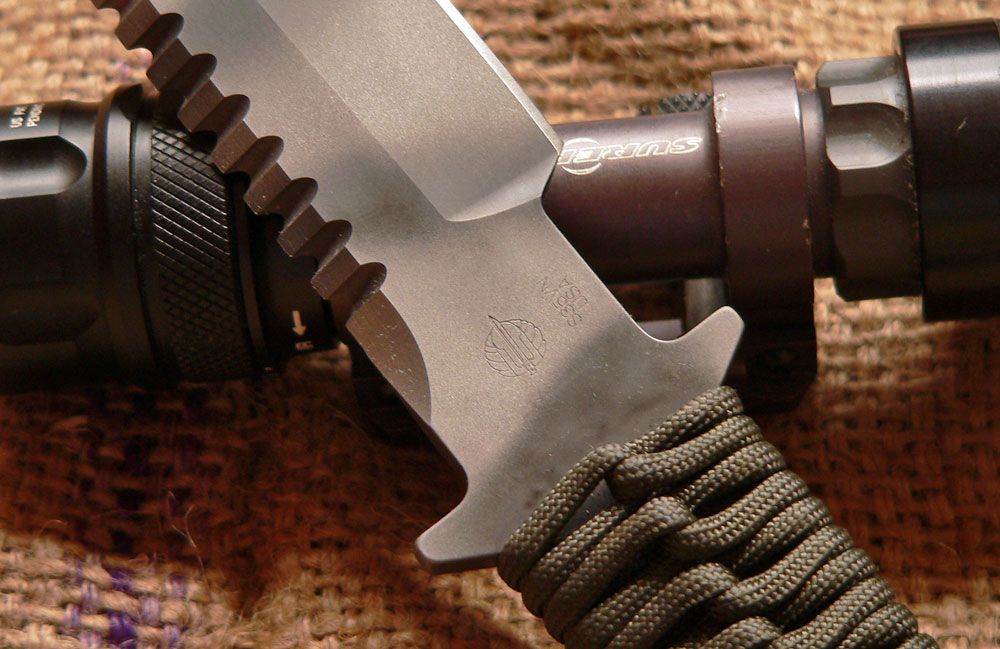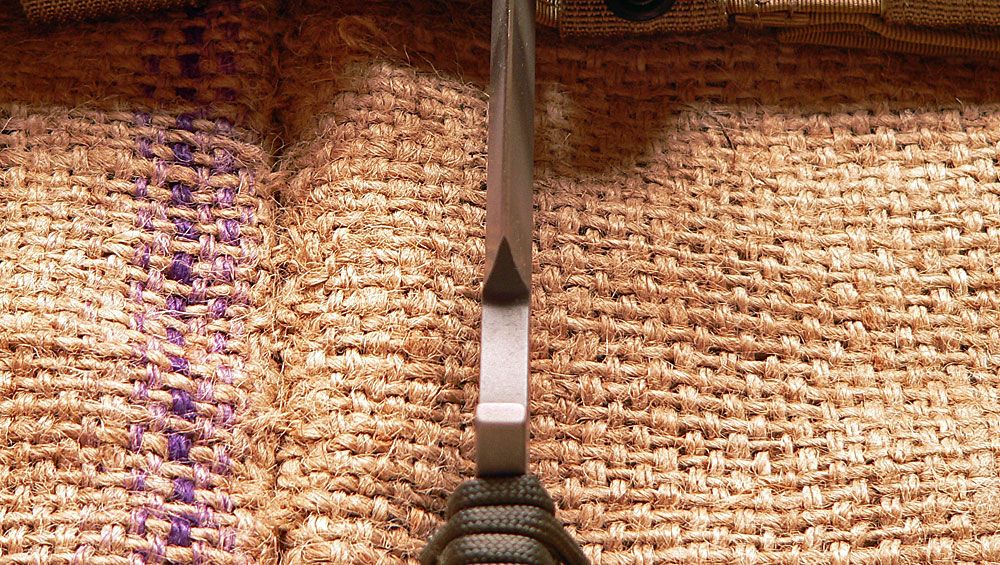 You can see from the above pic, that the blade geometry does not lend itself well to being a good slicer - maybe if it was a full 0-edge scandi grind it would be better at working wood, but the very long ricasso/choil area also makes it a bit awkward for carving. You can choke up on the edge, but the serrations on the top edge do bite into your hand or fingers. This is not as big a problem as it might seem actually, because the top edge is so dull you can actually use those serrations as thumb jimping providing you don't put too much pressure on the cut.
This knife is all about the robustness of construction and the point!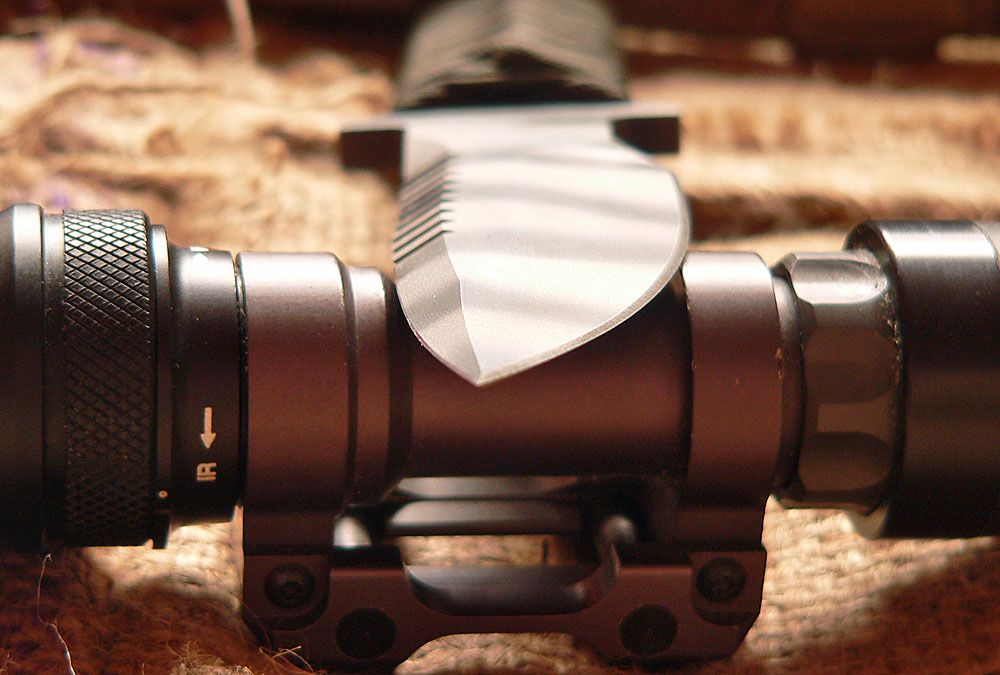 You could be forgiven for thinking I'm hating this knife, but you'd be wrong. I love it! Seriously, I think it is an amazing tool - for the job it was designed to do. To understand that, you have to stop thinking of it as a knife really and start thinking of it as a demolition tool with a serious point and a functional edge. It's designed as a military tool, not for combat, but for opening tin cans, puncturing vehicle tyres, draining fuel tanks, opening oil drums, prying open rusty ammo boxes, wooden doors and sash windows. You can drive this thing into a cinder block and then your whole platoon can use it as a step up without ill effect. It's designed so you can beat the living snot out of it in a harsh, brutal, unforgiving environment like Afghanistan, but it will continue to do what is says on the tin. The finish will get trashed, but who cares? Knife care is a luxury for civillians who are not being shot at and blown up. For a soldier in Afghanistan, or a post-apocalyptic wasteland warrior, or just a seriously ham-fisted woodsman, it's perfect! Combine this with a Leatherman EOD and you'll be a walking tool shop and one man wrecking crew.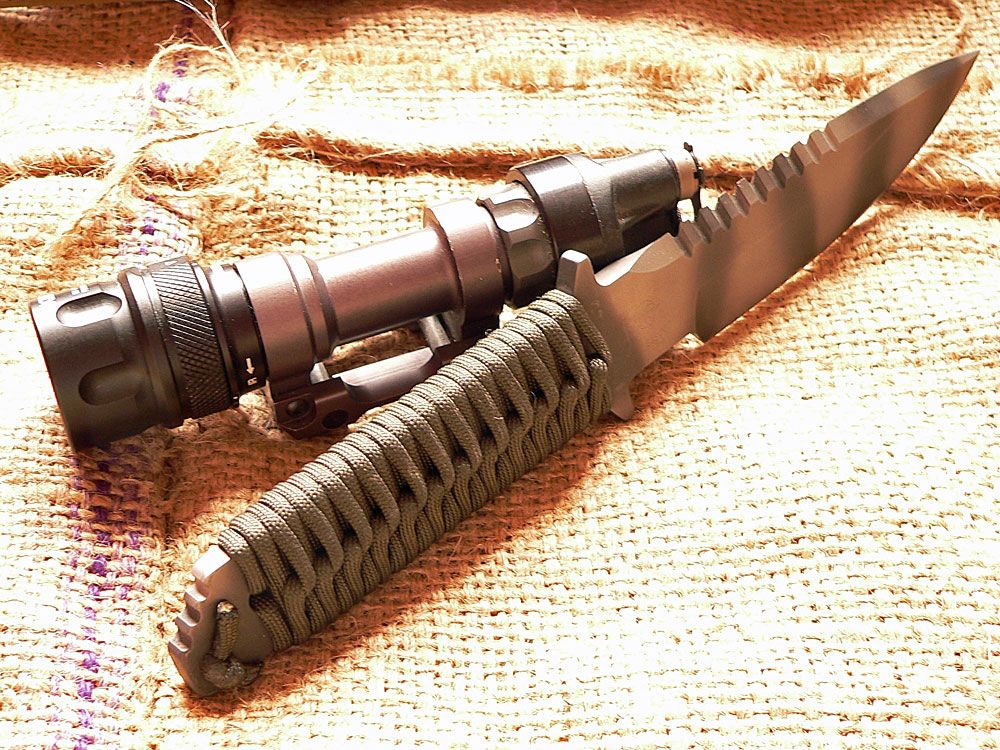 About that finish, it's just sandblasted on in patterns. It does scratch easily, so forget any idea of using this knife and keeping the finish intact. But again, if you are using this knife for it's intended purpose, then who cares?
The sheath it comes with, is a customised Eagle Industries sheath. It doesn't have PALS on the back, but it has numerous hook and loop attachment options. It's flexible at the neck, so you can wear the knife at the hip and move it to a 90 degree angle for sitting in a car or whatever. It's comfortable and functional. It also has a loop at the top for attaching to a drop leg rig if that is your want. There is also a secondary hook and loop fastener at the top which makes it jump-safe. One thing I like very much, is the kydex insert is felt lined, which removes the issue of the kydex marking the blade. All kydex should have this.
Great knife!
------------------------------------------------------------------------------------------------------------------------------------------
Next page, the Chris Reeve Pacific.