Having been twice invited me up to Haggistan to stalk Red stags, and having had a superb time and taken 4 beasts, the bug bit. I decided to buy myself a stalking rifle as described
here
.
The next step, in my mind, was to get some training and a qualification in this litigious and Health & Safety-obsessed era.
The obvious first step was the
Deer Stalking Certificate, Level One
, henceforth described as DSC.1
I joined
BASC
(£10,000,000 insurance is part of the membership package) for £66. Application was on line; my membership was through within hours.
Looking through the list of DSC.1 venues available, I found that BASC were holding one only a few miles from my home from 19th to 22nd June inclusive. I treated it as an omen and booked it at a cost of
£290
.
A few days later my course joining instructions arrived, together with an intimidating bundle of reading material which I was apparently supposed to have read and committed to memory before attending. This comprised the 240-page
DSC Level 1 Training Manual
and the roughly 40-page
Wild Game Guide
, which describes hygiene and legal meat sale requirements.
If you're interested in the level of knowledge required, the question banks can be downloaded from
here
.
Hmmm
... As a complete novice, there was a lot of work to be done.
I resolved to wait until one month before the course began, then do 30 minutes study per day. During the last week I would increase that to one hour per day. Absent unavoidable commitments I managed to keep to that.
Before the course started BASC advised me that the venue had had to be changed for unspecified reasons. The new location was to be
Bradshaw's gun shop
near the charming town of Oundle in Northants. This business has just moved to a new location in excellent premises, and is well worth a visit if you're in the area.
Day One arrived, and a very nervous Mirage walked up the stairs to the lecture room, suffering from those "First day at new school" jitters.
Our instructor was to be a chap called Andy Papworth, a massively-experienced stalker and all-round nice chap.
My 11 fellow attendees were a varied group including a farmer, an army officer, a grain feed salesman, a carpenter and a civilian employee of the police. A good bunch of blokes.
Here's an idea of the venue: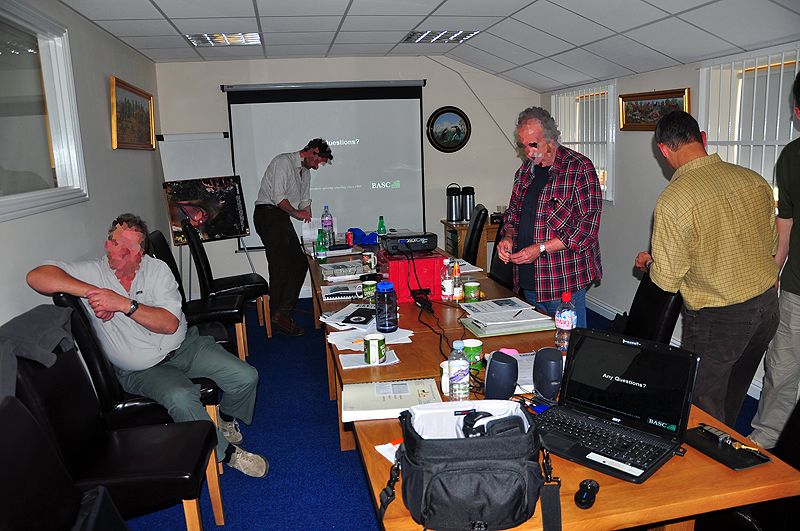 Training aids: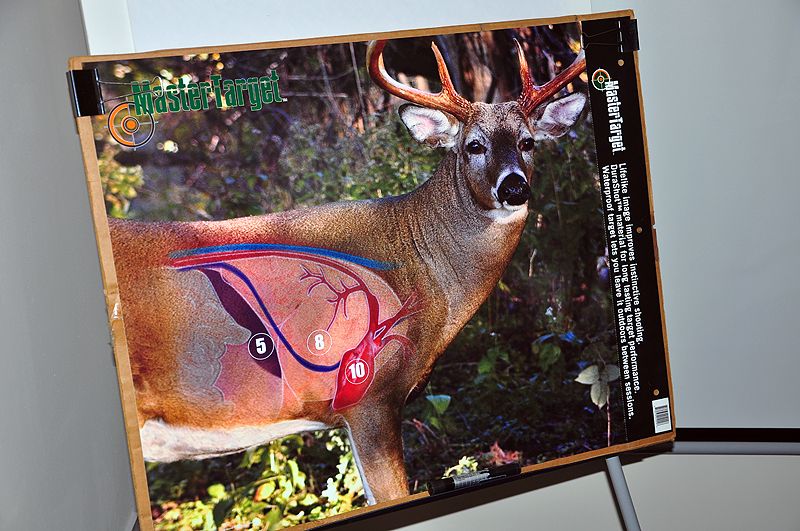 The targets on which we would shoot for qualification: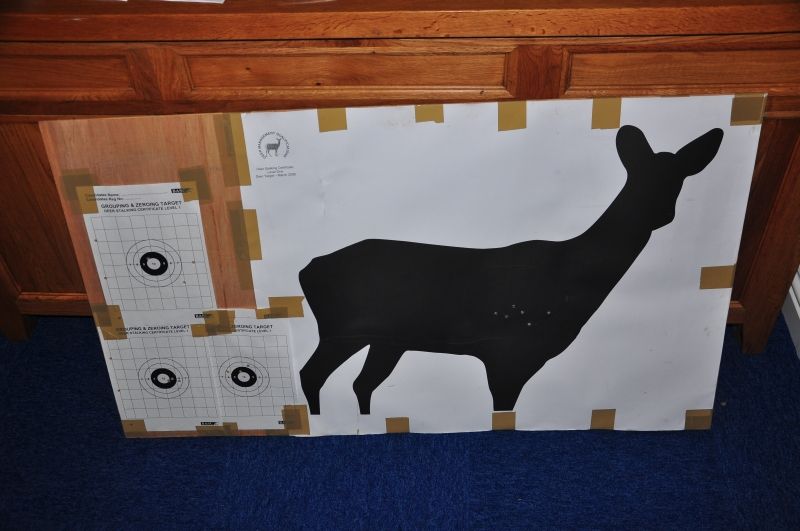 Of the four days, the first 2½ were "chalk & talk", consisting of lectures accompanied by
PowerPoint
presentations. All of the relevant course material was covered, though it would take a brave man to turn up on Day One having done no study and rely on absorbing it all in the classroom.
Bradshaw's supplied tea, "coffee" (
) and biscuits. We brought our own food.
The practical shoot was, typically, held on the crappiest day, with rain being driven by high, gusty winds.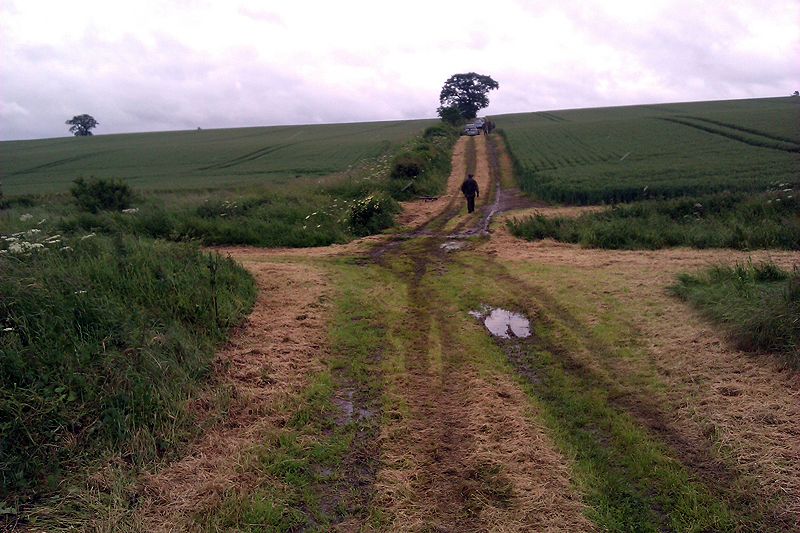 The "range", looking back from the targets towards the firing points
The qualification shoot is as follows:
1. Three rounds prone from 100m to check zero and group size. A 4" group is a pass. If you don't achieve that, you get a total of up to three attempts on the day.
2. Two rounds prone at 100m against a life-size deer target with a 6" kill zone. The kill zone is faintly marked, and can't be seen through your sights.
3. Two rounds kneeling at 70m against the same deer target. Sticks or a long bipod may be used as a rest.
4. Two rounds standing at 40m against the same target. Again, sticks may be used.
Here's my group for the six shots as described above: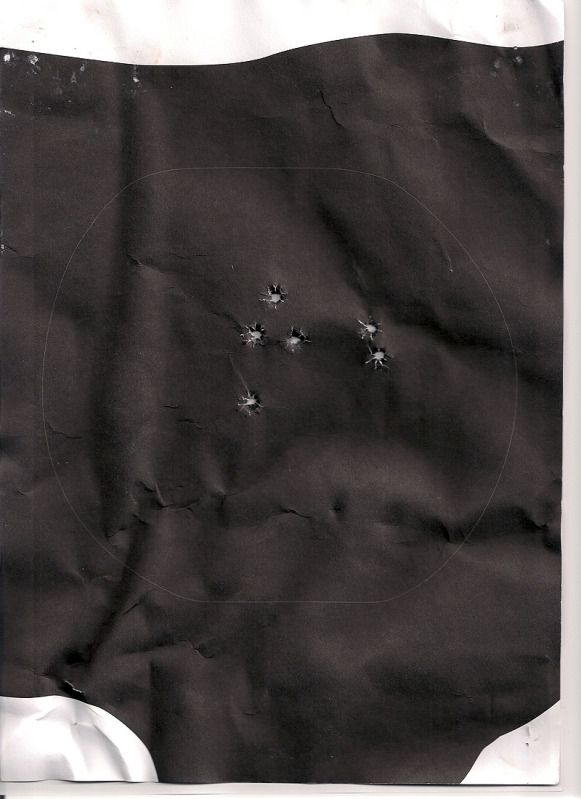 A nicely-centred, round group of exactly 2"!
Phew!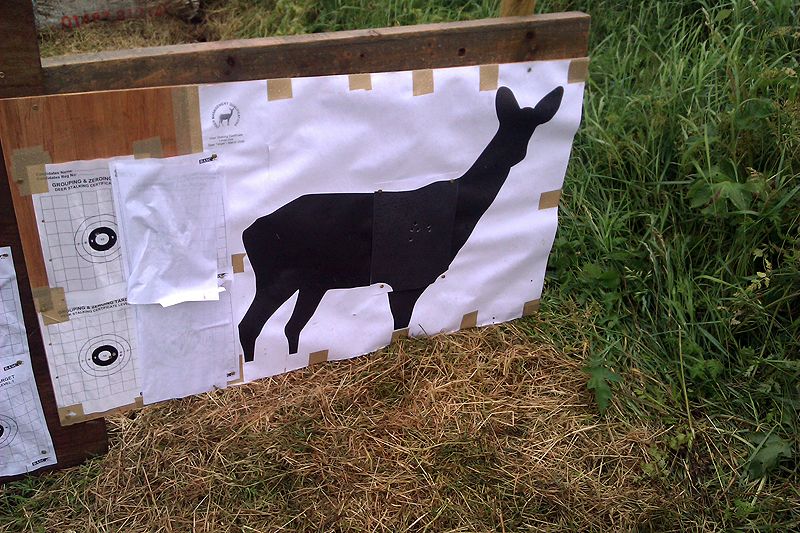 My targets in situ, the zeroing effort being bottom left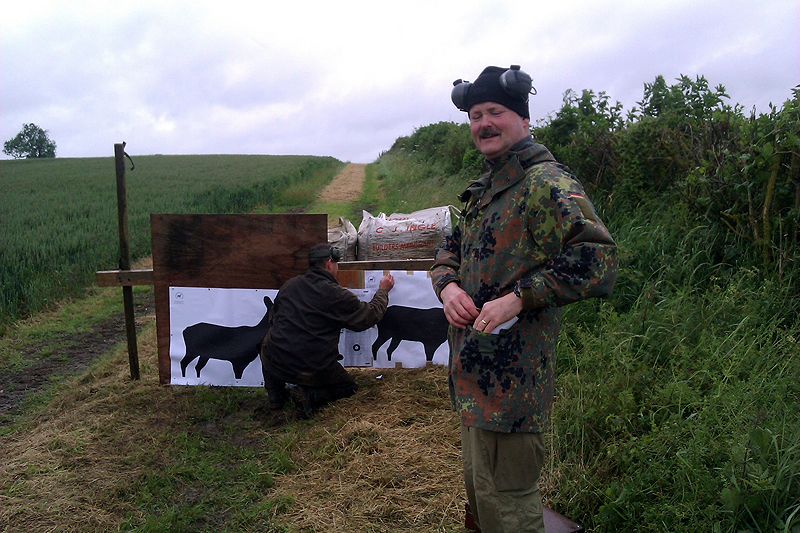 A dismal pic of me as Andy marks my targets. His congratulatory handshake was very welcome, believe me
The written exams are described
here
and I don't intend to reinvent the wheel.
Continued on page 2.
mirage