Hello all,
As the title suggests this is my first fixed blade from Spyderco so I just wanted to share my thoughts. I've been eyeing the Street Beat for a while now and decided to pull the trigger despite being very tempted by the Southfork. The Street Beat won out for size reasons in the end, with the Southfork being harder for me to justify when I already have the 'larger' fixed blade category covered (I know, I know, there's always room for one more!
).
Anyway, these are my thoughts on the Street Beat:
Here are the stats from Spyderco:
length overall: 7.188" (183mm)
blade length: 3.5" (89mm)
cutting edge: 3.25" (83mm)
blade thickness: .156" (4mm)
weight: 3.2oz (92g)
handle material: Micarta
blade steel: VG-10
The first word that came to mind when I picked this knife up was 'comfort'. The design is fantastic and my hand instinctively melted into the handle. I love big choils on my folders so I always had an inkling that I was going to get on well with the Street Beat and its huge lower choil. The balance is spot on and with your thumb locked into the spine jimping this blade isn't going anywhere you don't want it to. The handle is nice and thick so you know you have it in your hand but it completely vanishes in your grip. You're left with lots of VG10 out the front, although just how much blade there is is quite deceptive with your thumb riding so far forwards of the ricasso...I was actually quite surprised when I compared it to the grip of the shorter-bladed Paramilitary 2:
In contrast the handle of the Para 2 feels huge and you could be forgiven for thinking that the blade of the Para 2 is larger (more so in your hand than in these photos), despite it being the smaller of the two blades. With the Street Beat you are getting a heck of a lot of cutting edge in a very compact package.
Here is a size comparison with two well known Spydies (top to bottom - Paramilitary 2, Street Beat, UKPK):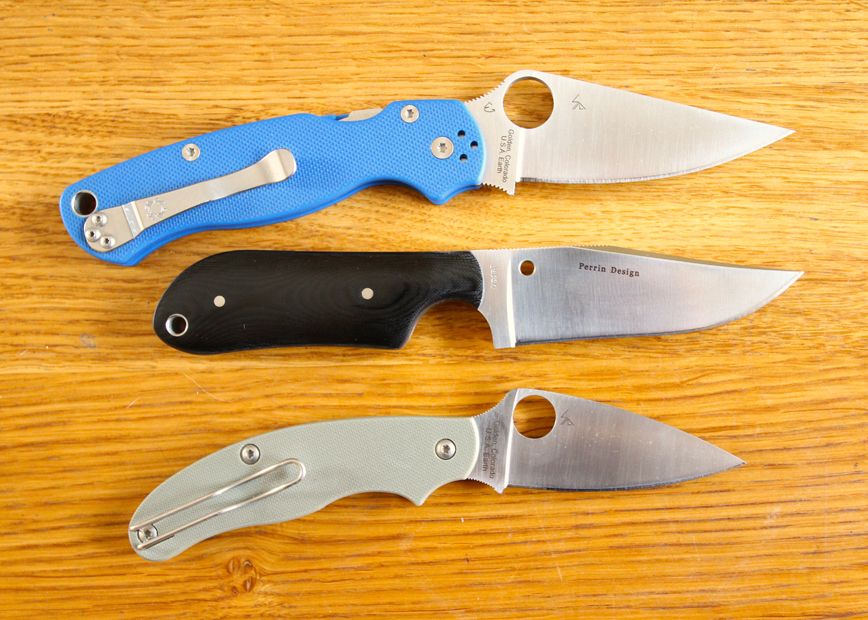 I have to say I've been getting along very well with this blade design. I really love the spine jimping and the extraordinary control this gives you over certain types of cuts. It really feels like an extension of the hand. The full flat grind makes this a nice deep slicer all the way to the relatively thick spine and the clip point is superbly done, leaving you with a fine tip that still inspires confidence in it's strength.
The blade is VG10 and with the exception of a slightly uneven edge grind on one side it is beautifully finished. I'm sure everyone is familiar with VG10 and it's abilities. It isn't my favourite blade steel by a long shot, but it still takes a screamingly sharp edge. I just find that I don't get the retention from VG10 that I've found in other 'standard production' steels such as S30V and N690Co. Still, the silver lining is that it sharpens up in no time at all!
This is a bit of the steel snob coming out in me though and honestly the VG10 of my two regularly used Spyderco Urbans has performed more than admirably over the last few years. The blade is part of a single piece of steel, full tang nestled between two micarta scales, double pinned.
It's a solid, well built handle and feels like it will stand up to a lot of punishment. The micarta is completely smooth and looks beautiful. Texturing really isn't necessary due to the ergos of the handle locking you in place anyway. As you can see the handle also features a lanyard hole, about a millimetre wider than the one found on the Gayle Bradley but still a fair bit smaller than a Para 2 or Manix 2. It is very functional and will happily take a single strand of 550 cord, I just prefer a bit more room in case I want to thread a loop of 550 through.
Just a word on fit and finish here...the knife is stunning and I am very pleased, however despite the handle scales being perfectly aligned with the tang, they are not symmetrical and the rear end of the handle is noticeably thinner on one side:
This doesn't affect performance for me and I purchased my Street Beat as a user, not a princess, so I'm happy...it does however leave room for improvement as I like to swoon and purr over a flawless knife as much as the next guy!
To any other Street Beat owners out there, I'd be interested to know if this is just something that slipped past QC or if these are simply acceptable variations in handle scales?
The Street Beat comes with a Boltaron sheath with the G-clip fastening system and I am very impressed. The quality of the sheath is excellent and it fits the knife perfectly with no hint of any rattling.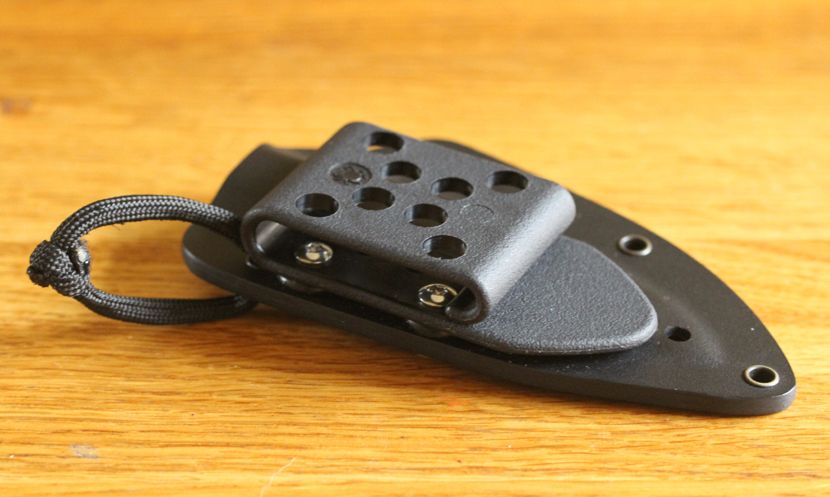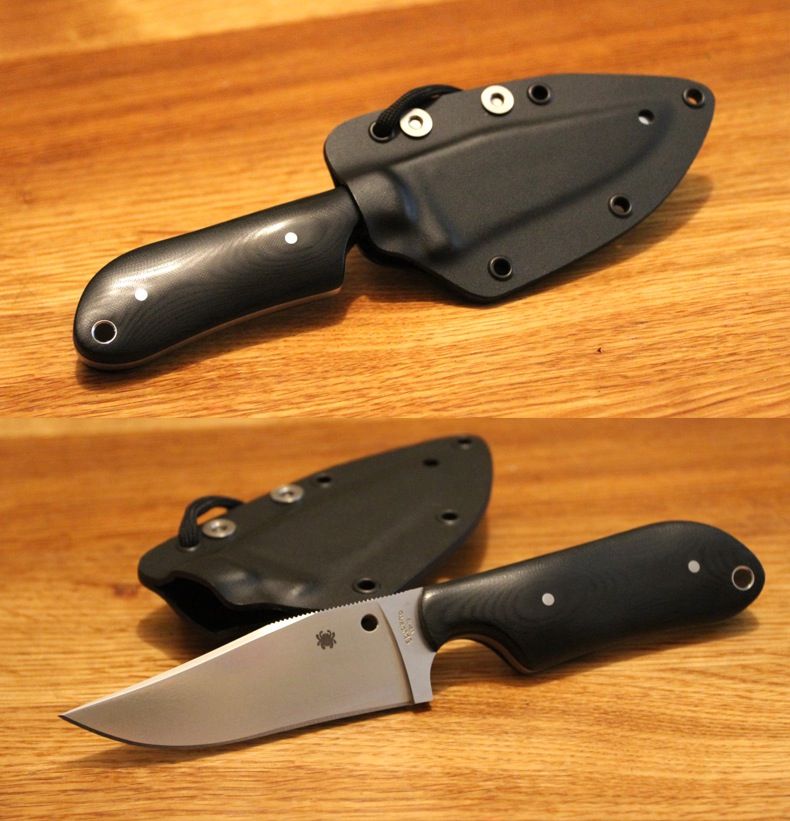 The G-Clip is adjustable via two screws (T10 torx) for inverted, vertical, forward cant, rear cant and horizontal carry. I prefer vertical carry at my side as I find following the body's profile stops me from snagging the handle.
Here is the sheath in the vertical position clipped to a 5.11 TDU belt (1.5'' wide):
The sheath rides comfortably under or over a shirt and is very accessible one-handed - it does not flex at the clip or slide along the belt line when attempting to retrieve the blade (like some sheaths I have found that require a second hand to steady the sheath on drawing).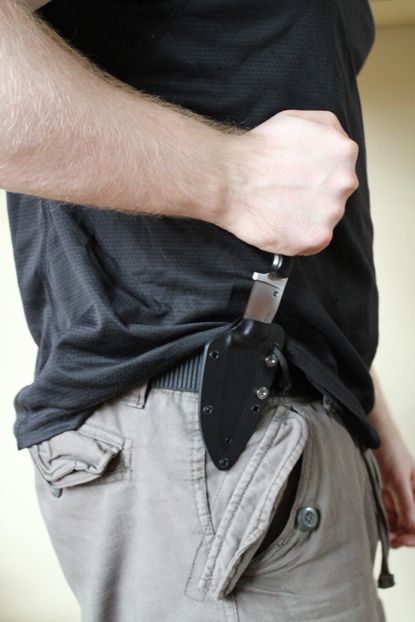 The G-Clip is extremely secure and isn't going anywhere; it takes a concerted effort to remove it intentionally, let alone by accident. As for blade retention this sheath is excellent. The blade locks into the sheath extremely securely, yet somehow drawing out the blade is buttery smooth. In fact it is that smooth that I cannot overcome my paranoia and I have added a loop of 550 cord as a safety measure. This is most likely entirely unnecessary but I find it puts my mind at ease if I am running/climbing etc. whilst wearing this sheath (especially if I was carrying inverted).
It is just a tiny loop of cord threaded through the sheath that when pulled taut allows the blade free movement, but if left loose against the choil prevents the blade from leaving the sheath:
Works like a charm and can be kept on the other side of the handle when the extra reassurance isn't needed or for when you don't have the time to keep pulling the cord taut before drawing. It puts my paranoid mind at ease anyway!
All in all I'm thoroughly impressed with my first fixed blade from Spyderco and this makes a fantastic EDC sheath knife. I've found it to be particularly handy for food prep and think that this would make for an invaluable backpacking/camping knife. In fact it looks a lot like a miniature kitchen knife (albeit cross-bred with a Bowie!) and the deep choil really makes this great for chopping board type jobs.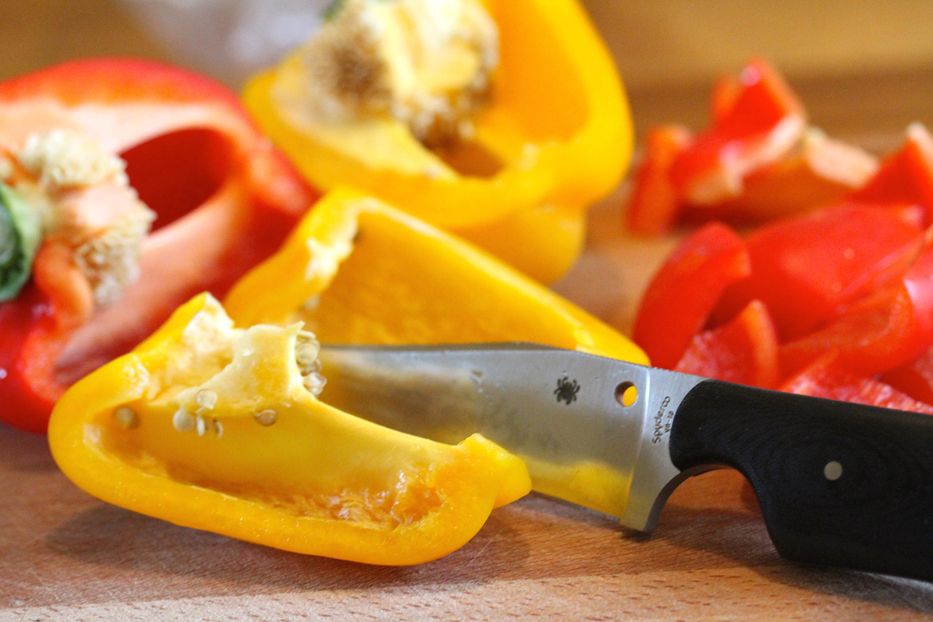 Along with it's great control for food prep duty I've also found that the full tang VG10 is very strong and very capable for more general outdoor use as well. It's a very tough little customer.
Well, those are my thoughts on the street beat up to now. It's great design that really shines through how comfortable and intuitive this blade is to use. A top little sheath knife that has a great deal of cutting edge for such a small thing in the hand.
I hope someone finds this useful
Cheers for now,
Uke.