Hi folks. My Frn UKPK has just been sitting in a drawer for ages as I just prefer my G10 and Ti ones (along with other daily carry knives). I was just going to sell it or give it away, but then I decided to get some new scales for it. Put in my order a couple of weeks ago with Custom Scales Division in Germany and the came today. I got toxic green ones which I do like, but if I'd thought about it instead of just rushing in (as usual
)' I may have gone with a different colour. They were so easy to change over and it took me about 5-10 mins and I'm the most unpractical man ever! I was a bit worried the original screws would be too short, but they were fine. I've taken a few pic of the process, plus the end result
The Frn model next to the new scales along with the washers and backspaces provided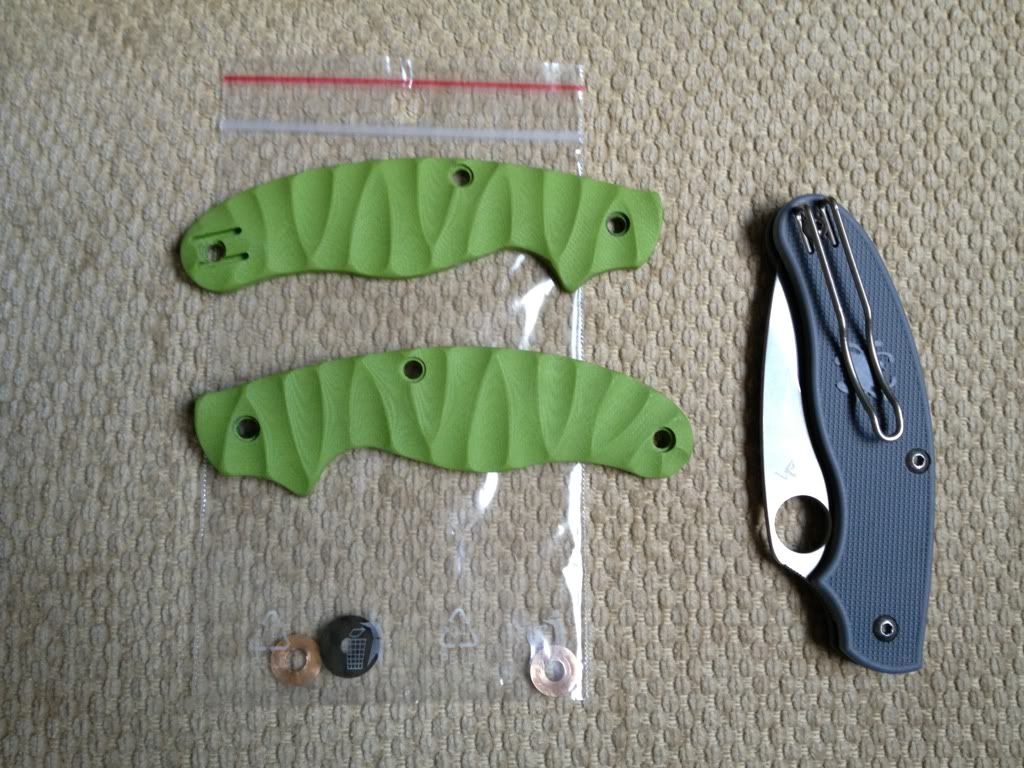 I made sure to tape the blade up and set it all out on news paper
The inside of a UKPK. I took the blade out then removed the back spring and the pins
There's a pic missing, but the next step was to put the pins in, then put on the washer and then attach the spring
This is the trickiest bit and why you should tape the blade. Put the blade in by putting tension on the lower part of the spring with s small screwdriver and pop the blade on the pivot. It takes a it of time and its rather fiddley, but after a couple of swear words it pops on then stick the 2nd washer.
Pop the other scale on and stick the pocket clip on then tighten the screws and bobs yer uncle. It takes a little time aligning everything up, but it all fits rather well
So there you go. Feels really good. Might take a little time to wear in a bit to get it really smooth, but apart from that all is well. It makes a huge difference to the knife and feels a bit more solid now.
Thanks for looking
Stu