Hello all,
Well I knew absolutely nothing about the original C54 Calypso before the release of this sprint, but on seeing the new version it immediately called out to me. A classy 'gents' folder in the style of the Police model you say? Well I'll try some of that!
I managed to pick one up recently and here is what I make of it so far...
Stats from Spyderco:
blade length - 3.93" (100 mm)
cutting edge - 3.60" (91 mm)
blade thickness - 0.118" (3.0 mm)
length closed - 5.10" (130 mm)
length overall - 9.03" (299 mm)
weight - 4.4 oz (125 g)
handle material - G-10
blade steel - VG-10
Straight out of the box I was struck by just how sleek and elegant the Calypso is for such a large folder. Here is the Calypso between two well known Spydies, open and closed, to give a clear idea of size...
From the top down - Paramilitary 2, Calypso and UKPK:
You can really see the family resemblance with the UKPK and the lengthy Calypso handles just as comfortably and intuitively as the rest of the Caly family. My fingers just melt into the choils as I've come to expect from this type of Spyderco design. It's a nice long handle to get to grips with as well, for anyone out there with larger mitts! It feels solid and substantial, but not too hefty in the hand...heavier than a Para2 but lighter than a Gayle Bradley. It actually handles quite delicately and precisely and I feel that this owes a lot to just how thin and slender this knife is...
The Calypso is substantially thinner than a Para2 and it is even ever so slightly thinner than the comparatively diminutive UKPK!:
...this slim profile also makes for very comfortable pocket carry! I love how thin this knife is. Speaking of pocket carry it's not the lowest riding knife, especially when carrying tip up (my preference). I've no intention of switching the clip to tip down but I've included a shot of where the knife would ride tip down in the photo below...
From left to right - Para2, Calypso (tip up), UKPK and Calypso (tip down):
As you can see above, the wire clip is still king here, although I do feel that in comparison to the Para2 this photo is a bit misleading. The Calypso
feels
to me more overt than the Para due to the long slim protrusion of G10 above the pocket clip, especially when carried in more angled pockets as in the photo below...
It's not a massive difference but I though it one worth mentioning as the photos make them look so similar in this regard. I love the wire pocket clips functionally, but as I mentioned in my review of the Gayle Bradley (I can't get used to calling it the 'Bradley Folder'
) I find the larger 'hour glass' style clip so much more attractive. This one in particular is very nicely finished and the bug logo is even coloured to match the brown of the G10 scales.
I did think it was a trick of the light at first, but no, that bug is definately brown!:
As far as the G10 goes, I'm a big fan of the brown. Pretty classy looking and also hides my grubby paw prints
It's a nice and grippy G10, more on the rough end of the scale than smooth.
Here she is in the hand, compared again with a Paramilitary 2 for scale: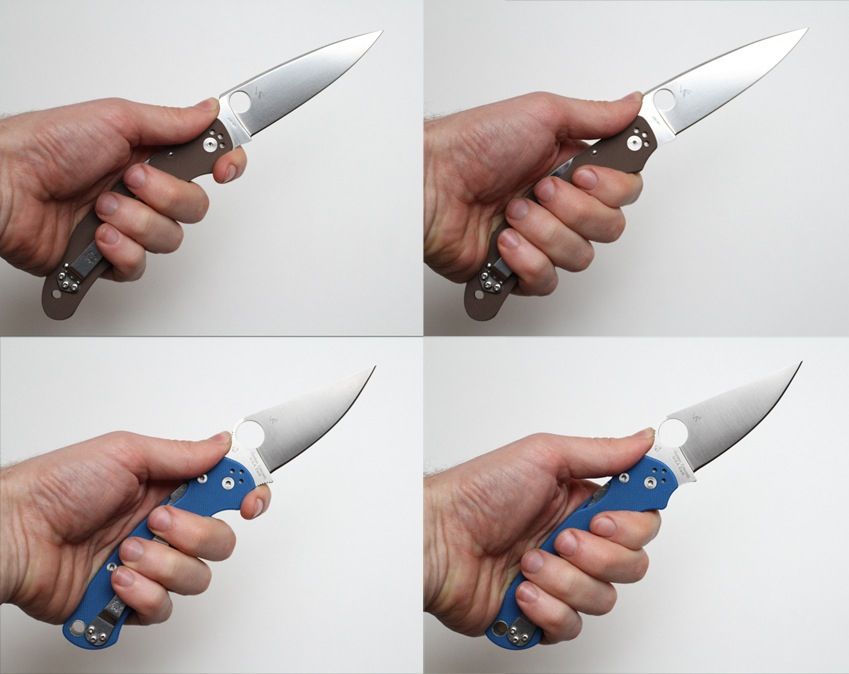 I did wonder about the practicality of such a long thin blade, but I've actually found it more useful than I had expected. I still think I prefer shorter, stouter blades for day to day tasks, but it has been a nice novelty to carry. It is a lovely slicer and the ergos give you a lot of control over that big cutting edge.
The Spydie hole is pretty small. Far smaller than a Para or Manix and smaller than that of even the UKPK: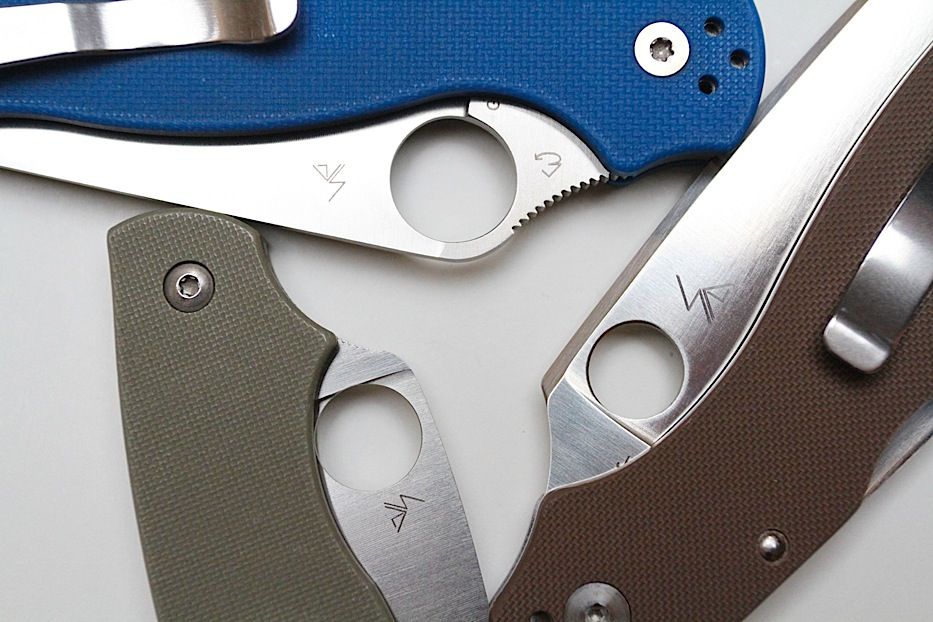 Despite thinking this might present problems, in use I haven't found the small hole to be an issue. It is still easily accessible when wearing heavy gloves:
Would it be easier/more reliable to open with a larger hole? Well yes, but then a larger hole would make this a different knife.
No jimping whatsoever: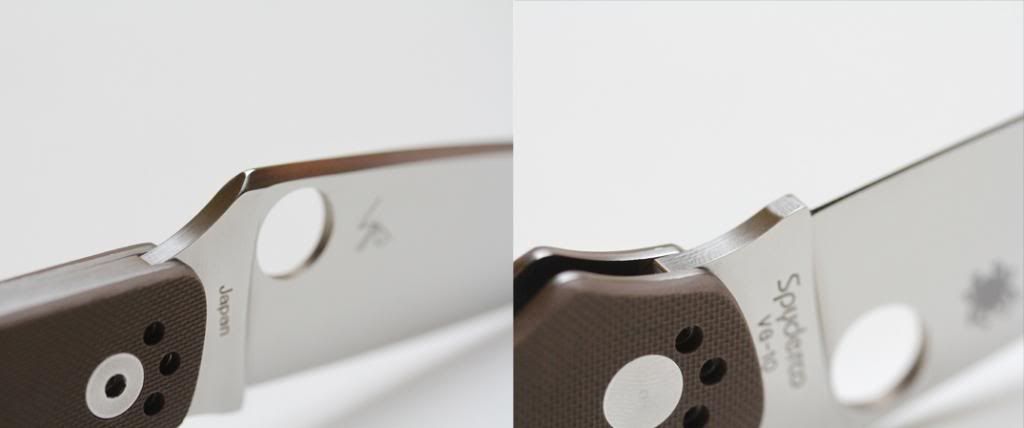 Now I'm not calling for jimping on the Calypso, again it would be a different knife with this addition (those sleek lines would be broken up for one thing!) and you can always reach for a Police 3 if you want jimping on a knife in this sort of category, but carrying the Calypso over the last few weeks has solidified my preference for jimping on a thumb ramp. It just gives me that extra bit of confidence in my grip and positioning. I have however been persuaded by the Gayle Bradley into not requiring a jimped lower choil
I have toyed with the idea of adding jimping to the thumb ramp on my Calypso in order to make it that bit more useable for me (and maybe guarantee a bit more pocket time) but I can't bring myself to do it! This temporary reincarnation of the original C54 feels like a little bit of Spyderco history so I want to carry it the way it was intended! I had also wondered why a steel a bit more exotic hadn't been paired with the Brown G10 of the sprint, but when I read that the 1998 Calypso was the first Spyderco folder to use VG10, it made sense that this recent homage should also come in VG10.
I'm sure I don't need to talk about VG10 here, good steel, decent edge retention, easy to sharpen etc. etc. Strangely enough the factory edge on this was the shallowest I've ever had on a Spydie, in fact it was pretty close to 40 degrees inclusive. I used the factory edge for the first week and it was a pretty decent working edge but I wanted extra-super-slicey from a long thin folder like this so soon reprofiled to 30 degrees inclusive...
...she is now a veritable laser beam
The blade is perfectly centred and straight as a die. As far as the general fit and finish goes this is nice work out of Japan. The lock up is solid as a rock, the back lock securing with a nice sharp click. There is zero play side to side and just the faintest wiggle up and down when applying a fair bit of force with the hands (not noticeable in normal use). The back spacer and liners are finished so nicely that they almost look like a single piece of metal...
The omission of a Boye dent keeps the lines smooth. Functionally I can take them or leave them to be honest; don't mind if they're there, don't mind if they're not...
And the flush pivot is just fantastic! I'm not a fan of the protruding 'humpy' Caly 3 pivots so I'd love to see more of this kind of thing:

I've always found that a benefit of the back lock is very reliable blade retention and the retention on the Calypso is excellent. The photo below shows the point at which the blade becomes free of tension. Any closer to the handle than this and the blade snaps securely shut:
Here is a shot inside the handle, showing the skeletonised liners helping to keep the weight down. Its all finished very smooth and clean:
The only real issue I found was with the spot where the thumb ramp meets the back lock. It isn't a completely smooth flow and this is a bit of a shame since the rest of the knife's lines are so smooth and unspoilt. It is pretty minor though and doesn't affect use, although the first example I received had the same issue but far larger. I sent that one back to be replaced as the crevice dug noticeably into the thumb.
My Calypso on the left compared with my original example on the right: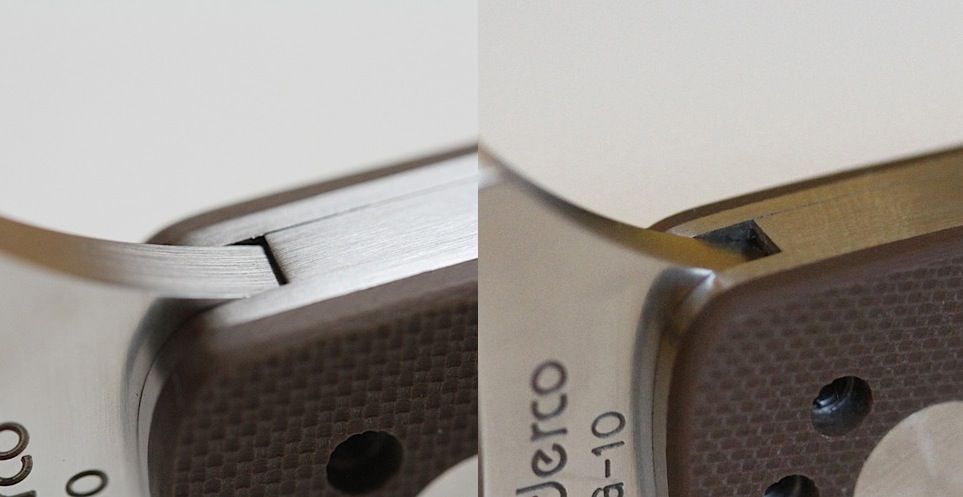 Overall I'm pretty impressed with the Calypso sprint. I don't find the size and shape the best all round combination for my regular everyday functions but it is an absolute joy to carry and use and will undoubtably continue to see lots of pocket time just down to its sheer 'loveliness' factor. Its real strength for me is managing to feel tough and reliable yet elegant and precise in the hand at the same time. It is a beautiful design and to be honest I'm pretty flabbergasted that the Calypso it isn't a regular production model for Spyderco.
A quick snap out and about:
A great food prep slicer:
Well thanks for putting up with another lengthy review! I hope someone finds it useful. If this Calypso sprint has done anything for me it has given me a big hankering for a fancy Police 3 sprint!
Cheers for now,
Uke.